Kialla Pure Organics
Kialla Pure Organics
Kialla Pure Organics believe that the way people grow and eat food needs to change.
As one of Australia's organic wholefood pioneers, they're on a mission to inspire people to embrace organics as the healthiest and most sustainable food on the planet. They've dedicated themselves over the last 30 years to milling quality foods for all passionate foodies who are committed to a healthy lifestyle and a healthy future.
The benefits of organic food come from the way it is grown. The future of sustainable food begins with how the farmers nourish their soils and use techniques that work with nature not against it.
Certified organic also guarantees that your food is non-GMO and free from synthetic chemicals, so you can be sure that you're feeding only the best to yourself and your family.
The secret to the quality of their products lies in sourcing the best grains from their organic farmers, and then minimally processing these in ways that maximise the nourishment and celebrate the unique taste of each grain.

Kialla Pure Oranics know that the food we eat matters: organic food is good for you, good for farmers and good for the planet.
A pioneer of Australian organic farming
Kialla's origin story can be traced through their organic certification number "ACO CERT No 41". One of the first organic processors in Queensland, Kialla are proud of their regional roots and are one of the last remaining flour mills in Australia still operating in the midst of the farmland where the grain is grown. Here they process over 20 different grains to create their range of retail products.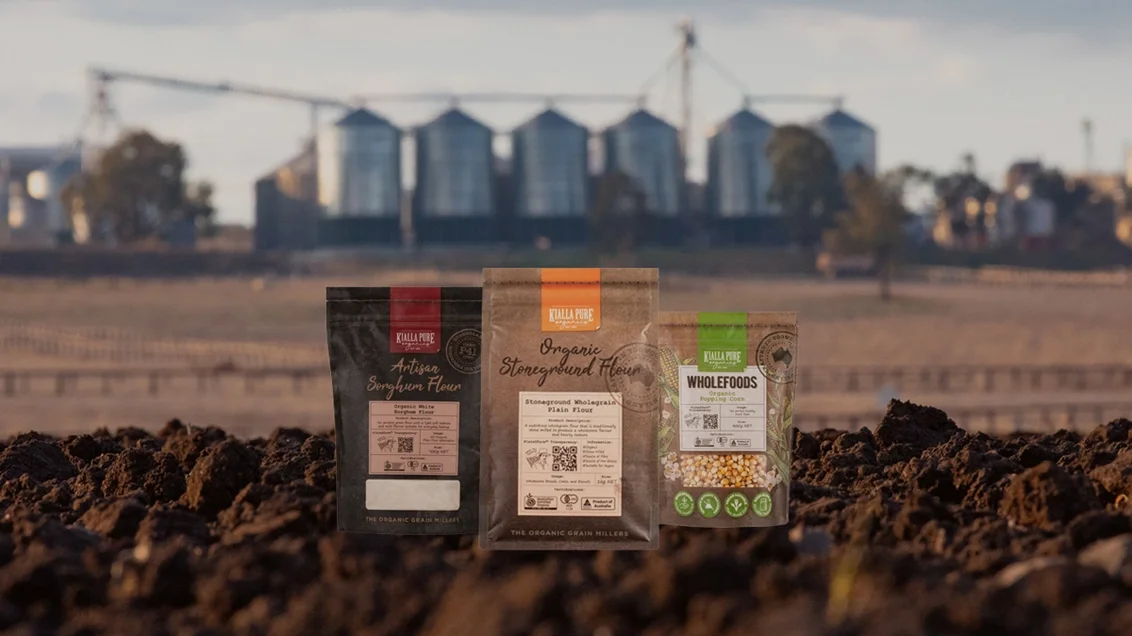 Sustainable, nutritious food
Kialla began in 1988, in the heart of Queensland's Darling Downs, inspired by a grassroots movement that recognised the importance of nutrient rich food grown in a sustainable way.
In addition to expertly milled flours and nutritious wholefoods, the expanding range of pancake mixes, protein smoothies and bread mixes help to make your life easier – while still retaining their ethos of maximum nutrition and minimum processing.
From plate to farm
Kialla developed the Plate2Farm tracker, back in 2015, to build trust in organic certification and a greater understanding of organic practices.

By empowering people to make informed choices, they develop stronger connections between dedicated farmers and the passionate people who buy their produce.

Kialla believe this will change how food is grown for the better.